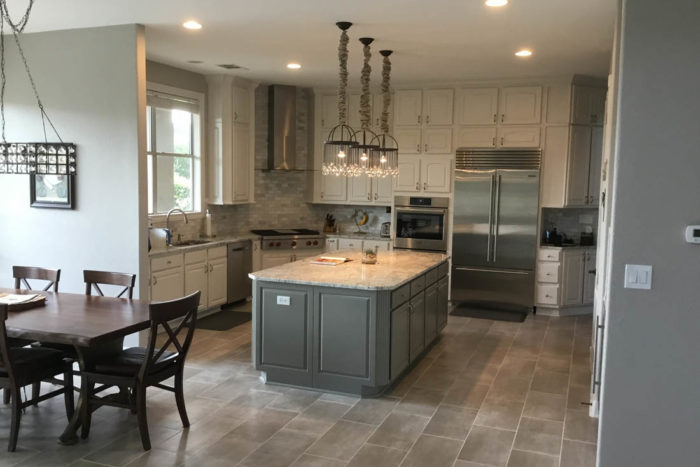 Whether you have an older home that you'd like to modernize or you are buying a home needing extensive remodeling, a whole-home renovation is a solid choice. Your home should be a reflection of you; it should show your style and suit your needs. A whole-home renovation is a good way to make sure your home's interior flows well and is designed the way you'd like it be.
At Helton Remodeling our team of skilled professionals is here to help you create a home that fits your family and your lifestyle. We understand that a whole-home renovation is a big project, and we'll do our best to make it as fun and stress-free as possible so that you can come home to house you love.
The picture at the top of this section showcases a kitchen designed to please the eye while meeting the heavy demands for entertaining. The wall cabinets to the ceiling yield an impressive presentation while serving to keep serving items centrally located and organized for large parties. The specially designed corner cabinet to the right of the fridge allows for easy access to backpacks, keys and miscellaneous stored items out of sight yet still accessible for daily use.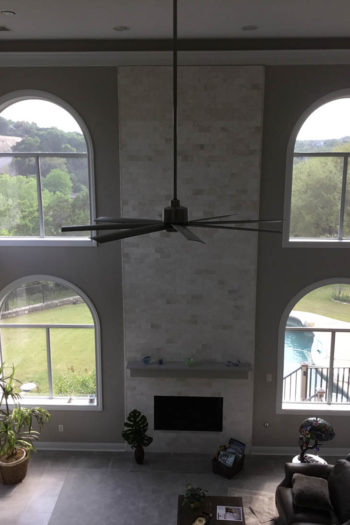 The above picture is the adjoining living room to the kitchen pictured on top. The floors were continued from the kitchen into the living room lending a seamless feel for the party atmosphere. The floor to ceiling fireplace with simple mantle creates a dazzling focal point. The 72" ceiling fan is great for keeping guests comfortable and focused on the party in the two rooms.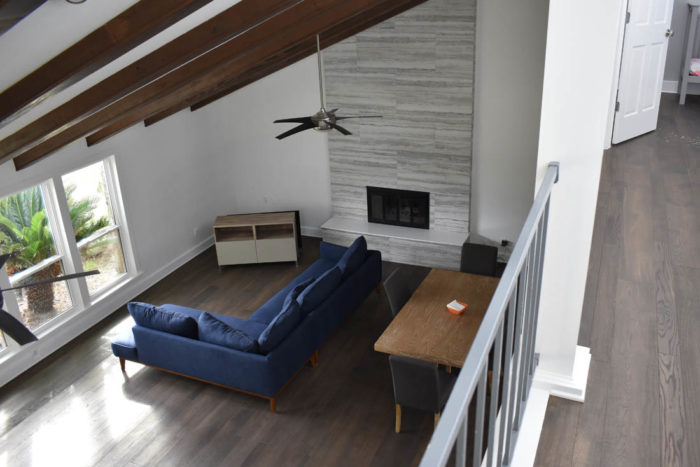 The picture above is another great example of a whole-house renovation. The original fireplace façade was painted brick. Our customer wanted a complete modern feel to their new home. The fireplace was reborn with this tile façade and quartz top hearth. White oak floors were installed throughout the entire house and the faux beams were stained to match.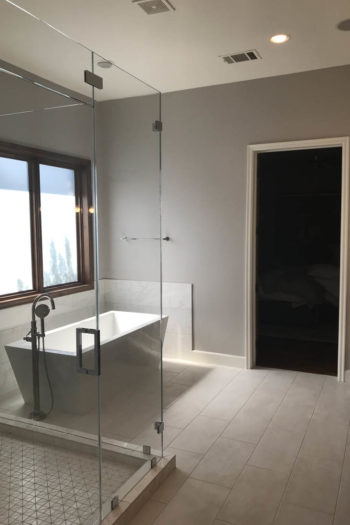 What's a whole-house renovation without a new bathroom? And, Oh Boy, what a bathroom this turned out to be! Clean lines next to a playful shower floor tile with the tub and soft white window in the background beckons a retreat into musing, relaxing solitude after the grind of the day. Simply stunning!
With Austin's shortage of housing, whole-house renovations have become the go-to option for buying the house of your dreams. Contact Helton Remodeling Services today so that we can schedule an appointment to help make your whole-house Remodeling dreams come true.
From the initial consultation with Brent, he was helpful at addressing the work needed and advising us on a layout that would work best, and be cost effective for our new project. Once our contract was drawn up, they started immediately and were very considerate, speaking to all my neighbors about parking and the possible noise from the construction. The timescale we agreed was met every week with an inspection to see how the work was progressing. Teams turned up when they were supposed to and on time. The work was completely impeccable. I'd have no hesitation in using Brent again or referring him to others. A pleasure from start to finish.
Murray W.
Helton Remodeling performed a project on our house. They did a great job overall. Their tile person does the best work of any tile installer I have ever contracted -- I am very picky, but had zero nit-picks on the tile work. I would highly recommend Helton Remodeling.
Steve and Cathy Z., Austin, TX