If there is one area that has evolved in remodeling over the last 25 years, it is the bathroom. Bathrooms are changing with the human experience. We all desire a streamlined experience to start the day and a private oasis to unwind at the close of a hectic day. Baths have become a bygone tradition in the morning. More people are opting for spa-like looks and functionality with large walk in showers equipped with rain shower heads and shower wand versatility. Deep soaking tubs have replaced the old whirlpool style tubs for end of the day relaxation. Today's contemporary cabinet styles with quartz tops provide better storage options creating clean, clutter free looks all day long under ambient overhead and sconce lighting. These are lavish treats, and they are hard earned rewards for our busy lifestyles.
The picture to the left of this paragraph was built when our customers wanted to turn their dated master bath into a contemporary, clutter free space equipped with Shaker cabinets. The addition of a tower with outlets allows storage of electric toothbrushes and the shaver to remain out of sight keeping their beautiful quartz top as the center piece of the vanity.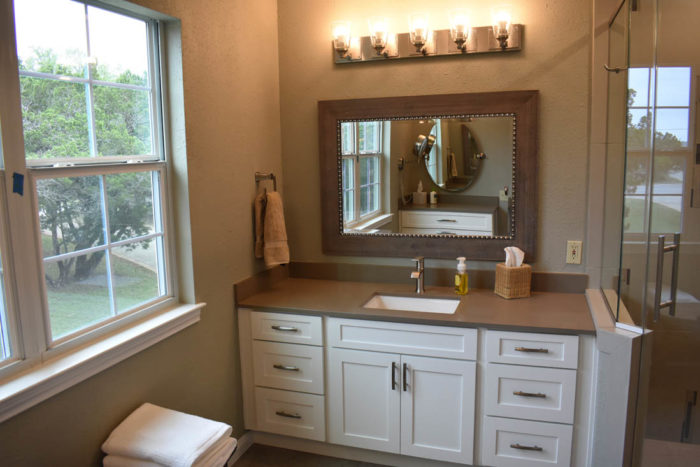 The picture immediately above this section shows a remodeled kitchen when our customer was determined to keep the country feel of their home while adding increased storage space for toiletries. A custom cabinet was built to fit in the existing vanity location and a cosmetic 3 drawer cabinet was built so that the happy couple can prepare for their day together.
In the pictures that follow, you will find other classic traditional styles of bathroom remodeling projects. In these next two pictures the customer wanted a grand shower while minimizing the massive tub and tub deck. Originally the shower had a chopped corner in the middle. Helton Remodeling squared the shower and tiled to the ceiling to add significant space to this shower. Centered off the window, the sleek tub adds a tranquil, inviting feature to this new bathroom.
Bathroom remodeling is one of the most rewarding changes in every home. It reflects the homeowner's dreams, needs, style, and wishes. The perfect bathroom remodel project has a well-balanced design so it fits everyday usage.
Contact Helton Remodeling Services today so that we can schedule an appointment to help make your Bathroom Remodeling dreams come true.
Brent was a careful, thoughtful contractor who did high quality work. Before we started, he placed strong emphasis on ensuring that we both had a clear understanding of what he'd be doing, how he'd be doing it, and the timeline for completion. He was also very communicative throughout the process, so we always knew what was happening. Very happy with the outcome. Highly recommended.
Spencer S., Austin, TX
Brent and Rocco were great to work with. We had a smaller remodel than what they were used to, but they paid as much attention to our job as any of their other, bigger, projects. Things went as planned and Brent explained everything as the work progressed. They accommodated all our changes and the whole thing worked out beautifully.
Doug D., Austin, TX
Highest integrity from a contractor who won't rip you off! We have had some bad experiences with others in the past, and I wish I'd found Brent sooner. He is honest, trustworthy and truly interested in making the client's experience positive. I highly recommend him!
Susan T.