Homeowners expect more from their bathrooms than ever before. This bathroom remodeling project was completed for your Lakeway neighbors in a small section of unincorporated Austin.
The homeowners were tired of feeling cramped in their 3×3 shower. Helton Remodeling expanded their existing shower into a lush 7×4 shower accented with quartz tops on the pony walls and two benches. The herringbone floor tile creates an added level of decadence.
The completed shower space is optimal for a dual shower. When desiring a "spa like" feel, the homeowners can use the left side equipped with rain shower head and wand. There is also a single shower head for those time when the couple are in a hurry and need to get ready for the day at the same time. The custom wide, double decker niche is perfect for either shower side with a shorter compartment for those smaller shower items.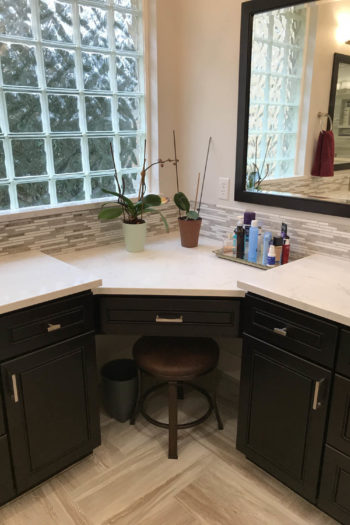 Forget the tub, and install a knee hole cabinet instead! A lot of work went into this practical space. The first row of glass was walled up so that the splash could continue at the same height as the "his" and "her" vanities. An outlet was added in the corner just in case she needs to plug something in while getting ready for the day.
I would definitely recommend Helton Remodeling Services for any Lakeway area remodeling projects. We did a complete master bath remodel and we are extremely pleased with the results. Brent followed up promptly throughout the entire process by answering my hundreds of questions and by keeping us informed throughout the project of the progress. His crew and subcontractors were all very professional and worked very hard to make sure everything met our expectations. Even when I pointed out a few flaws, Brent immediately acknowledged and made sure the issues were resolved. Brent and his team were honest and trustworthy and I would not hesitate to use HRS in the future.
Contact us today as your first step in our becoming your preferred choice as your Lakeway or Austin Bathroom Remodeling Contractor.