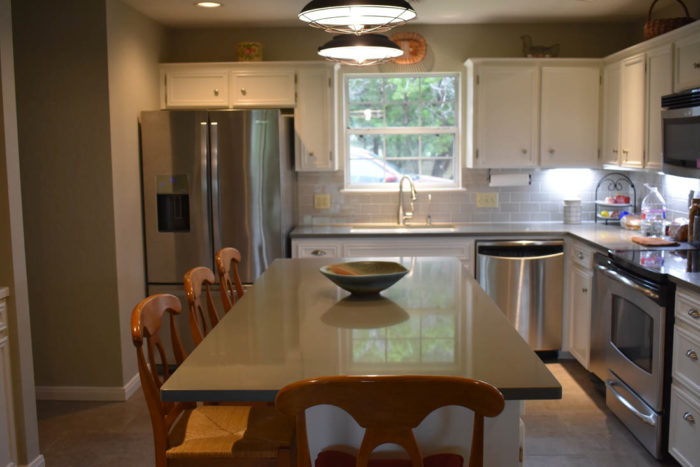 Over the years, the kitchen has gained popularity as the central, most important room in any home. It enjoys round the clock patronage. Starting from a very early morning breakfast to a late-night snack. The kitchen is a loyal witness to any drama in life. Whether preparing an important meal for family or friends, surprising a loved one on a special occasion or making a special dinner for the grandchildren, the kitchen is always there.
So, when it comes to planning for a kitchen remodeling project, there are a lot of things to consider so that it will become a room where everybody will feel comfortable and welcome.
At Helton Remodeling Services, we want your remodeled kitchen to be a perfect combination of good looks and effective functionality. A kitchen remodel can take on so many forms of style, materials and color. Let us be your partners in deciding what will work best for you.
The picture at the top of this section represents our customer's vision to turn their dated home into a country style oasis out near Dripping Springs, TX. Freshly painted cabinets and solid toned quartz countertops provide subtle colors while new under cabinet lighting and overhead pendants offering just the right amount of lighting for reading the paper over a cup of coffee.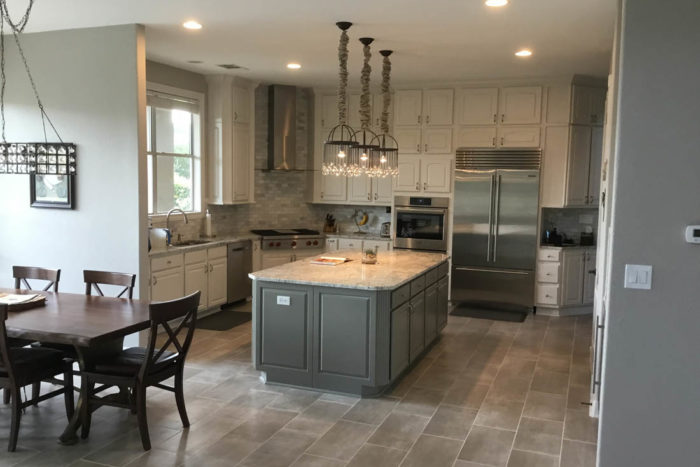 The picture immediately above shows a remodeled kitchen with our client's dream to turn their bland Austin kitchen into a statement kitchen. This kitchen show cases gorgeous White Ice granite tops, wall to ceiling custom cabinetry, Wolfe appliances, marble backsplash and continuous tile floors leading guests from the kitchen into the living room.
In the pictures that follow, you will find another classic traditional style of kitchen remodeling project. The first you will notice the perfect island for entertaining decked out with beautiful Caesarstone Quartz. The chef can prep all foods below guests next to the new gooseneck prep faucet or utilize the professional kitchen faucet next to the window for larger items. Prepared foods can be kept cold using the spacious Sub Zero built-in fridge on the other side of the island. In the second you will appreciate a smart look. The pencil tile splash combined with these Caesarstone Quartz tops and professional appliances creates a clean yet sophisticated look. The above cabinet lighting combined with the undercabinet lighting add just the right amount of light to get busy in the kitchen or just stand back and admire the view.
Kitchen remodeling is one of the biggest and most important changes in every home. It reflects the homeowner's dreams, needs, style, and wishes. The perfect kitchen remodel project has a well-balanced design so it fits everyday usage.
In this next picture you will find yet another varying style of kitchen remodeling project. Sometimes the size and style of a home dictates what you can do in a kitchen. Undercabinet lighting produces light when there is no window. Semi-custom Shaker cabinets designed to optimize space and functionality offset a missing pantry cabinet while adding a modern feel to this Austin kitchen.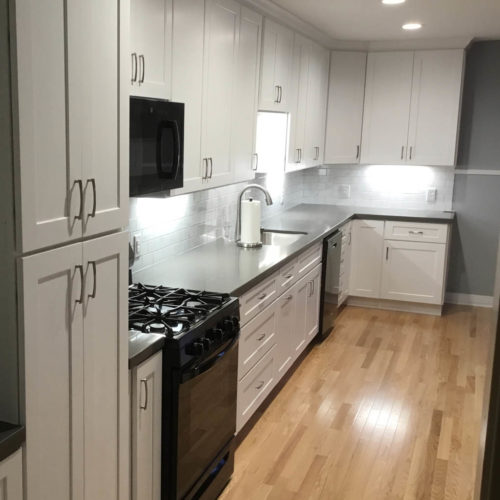 Helton Remodeling really came through for me. I bought a 20 year old home and had to get it ready for move-in fast, so I could list my other home ASAP. New tile flooring throughout, completely new kitchen, major bathroom work, and fireplace overhaul. Brent promised all would be done in 1 month as I asked, AND HE GOT IT DONE. Several issues arose--as always happens in a reno--but Brent and his crew had solutions every time. I really felt comfortable and in the loop; Brent is great about communicating every step of the way. The work is top grade. In particular, the tile work is the best I have ever seen; my floors are gorgeous, and the fireplace facade is a work of art. Finally, cost stayed as estimated. I have 1 more room to reno, & I will definitely call Brent and Helton Remodeling Services!
Nina D., Lakeway, TX
We have recently completed a 3 month project using Helton Remodeling Services. We remodeled the kitchen and two baths. It was a very positive experience, from beginning to end. Brent and his team were courteous, competent and organized. Brent was excellent at keeping us informed, providing direction and following through. He is very particular about the work he is responsible for. Without hesitation, we would turn to Brent and team for any future remodeling and would even wait, if necessary, for his services.
Sue R.
We recently were able to complete a "forced remodel" with Helton Remodeling. Brent got the project done in the 6 weeks we had hoped for with excellent quality. We would definitely recommend Brent and his team. Good guys!
Willy and Marilyn D.