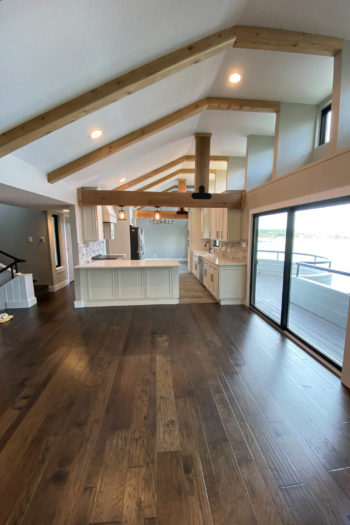 Whether you have an older home that you'd like to modernize or you are buying a home needing extensive remodeling, a whole-home renovation is a solid choice. Your home should be a reflection of you; it should show your style and suit your needs. A whole-home renovation is a good way to make sure your home's interior flows well and is designed the way you'd like it to be.
At Helton Remodeling our team of skilled professionals is here to help you create a home that fits your family and your lifestyle. We understand that a whole-home renovation is a big project, and we'll do our best to make it as fun and stress-free as possible so that you can come home to a house you love.
This dedicated page introduces a Whole Home Remodeling project for one of your neighbors in Lakeway.
The picture above showcases a full kitchen addition transformation accented with cedar faux and real beams, new cabinets and countertops and an open concept for easy access to the dining room and great room. The new sliders replace the single door to the back deck while creating better visibility of the lakeside views. The new sliders and windows add a contemporary ambiance and increase needed R value to keep the house cool in summer and warm in winter. Added LED can and under cabinet lighting was added to enhance the living experience so the experience can continue after the sun sets over Lake Travis.
Following is what the home looked like before we began the remodeling project.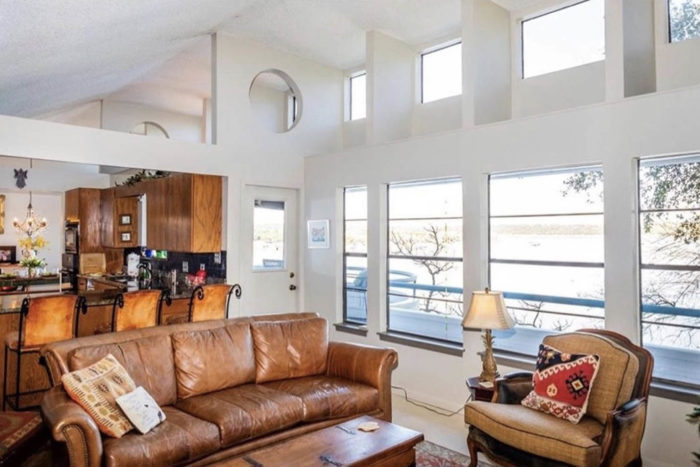 The next pictures better showcase the cabinet work. Helton Remodeling used J & K, Pearl Glazed Cabinets semi-custom cabinets to create the perfect fit for this kitchen. With multiple hood cabinet designs, Helton remodeling was able to find the perfect style for this homeowner. The fridge panel and dummy doors on all end cabinets and the great room side of the peninsula island really finish these cabinets off with finesse.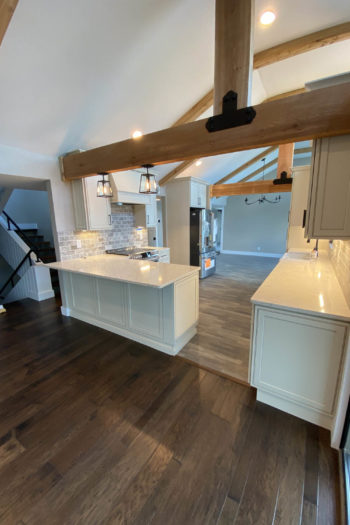 New countertops are the perfect accent of every kitchen remodel. The Vicostone, Argento countertops in the picture below match well with the stone brick-laid splash. Under-cabinet lighting accents countertops and splash while providing valuable light for kitchen prep work. You can also tone down the light at night for great accent lighting.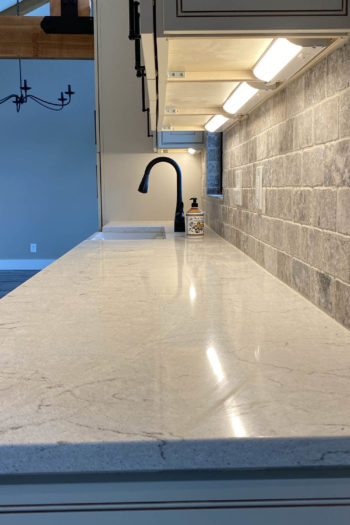 Following is the new laundry room with new cabinets, countertops, and a continuation of the travertine tile from the entry. The previous cabinets were a DYI project with all face frames overlapping. Helton Remodeling moved the sink cabinet to the left to create more space for a sop sink while keeping the washer/dryer in place. Additional cabinets were added for ample linen/utility storage, and the Vicostone, Argento countertops were installed to accent the rest of the house.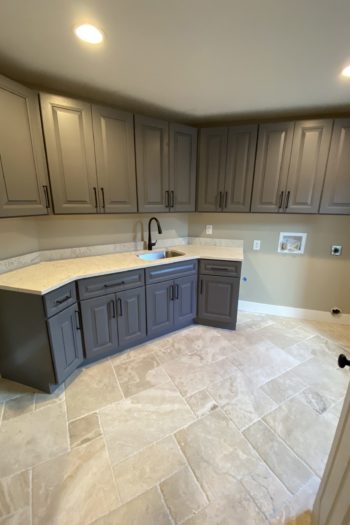 With Austin's shortage of housing, whole-house renovations have become the go-to option for buying the house of your dreams. Contact Helton Remodeling Services today so that we can schedule an appointment to help make your whole-house Remodeling dreams come true.
From the initial consultation with Brent, he was helpful at addressing the work needed and advising us on a layout that would work best, and be cost effective for our new project. Once our contract was drawn up, they started immediately and were very considerate, speaking to all my neighbors about parking and the possible noise from the construction. The timescale we agreed was met every week with an inspection to see how the work was progressing. Teams turned up when they were supposed to and on time. The work was completely impeccable. I'd have no hesitation in using Brent again or referring him to others. A pleasure from start to finish.
Helton Remodeling performed a project on our house. They did a great job overall. Their tile person does the best work of any tile installer I have ever contracted -- I am very picky, but had zero nit-picks on the tile work. I would highly recommend Helton Remodeling.
Contact us today as your first step in our becoming your preferred choice as your Lakeway or Austin Whole Home Remodeling Contractor.