Spicewood, TX is an unincorporated town in Burnet County, but most people use the name Spicewood to refer to the area west of Lakeway. Though there are a few large housing communities in Spicewood, most of the homes in Spicewood are custom homes built on individual multi acre lots. Residents in Spicewood enjoy the slower country lifestyle and commute into Austin for work and play. Located in the beautiful Texas Hill Country, many Spicewood homes boast hill top views overlooking Lake Travis.
To learn more about this area please visit Spicewood here.
With the country feel of Spicewood, it is not surprising that Helton Remodeling has worked on country style remodels in this area. The picture to the left shows a country style master bathroom remodel with subway tile accented with wood plank tiles. The pony wall between the shower and tub used to be a massive tower cabinet. This cabinet was shortened to provide more natural light into the shower and tie the shower back wall with the tub face.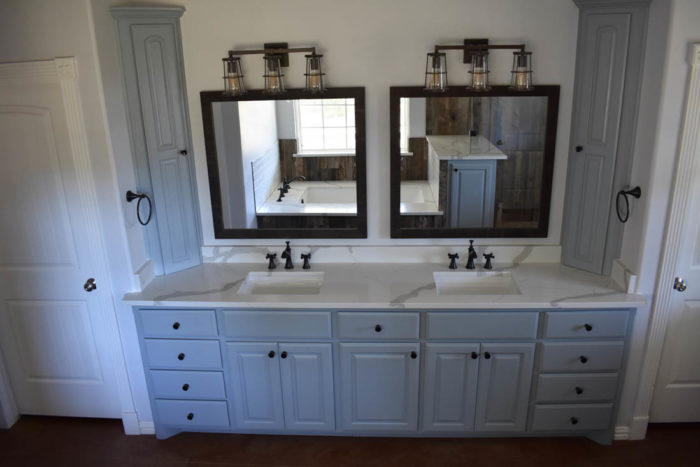 In the picture above Helton Remodeling refinished the original vanity cabinets which were golden oak. Painting cabinets offers tremendous design flexibility while updating the look and feel of the bathroom. Country style lights and mirrors mixed with more contemporary faucets and cabinet hardware transformed this bathroom into a real country paradise.
Contact us today as your first step in our becoming your preferred choice as a Spiecewood Remodeling Contractor.
Highest integrity from a contractor who won't rip you off! We have had some bad experiences with others in the past, and I wish I'd found Brent sooner. He is honest, trustworthy and truly interested in making the client's experience positive. I highly recommend him!
Susan T.
We have recently completed a 3 month project using Helton Remodeling Services. We remodeled the kitchen and two baths. It was a very positive experience, from beginning to end. Brent and his team were courteous, competent and organized. Brent was excellent at keeping us informed, providing direction and following through. He is very particular about the work he is responsible for. Without hesitation, we would turn to Brent and team for any future remodeling and would even wait, if necessary, for his services.
Sue R.